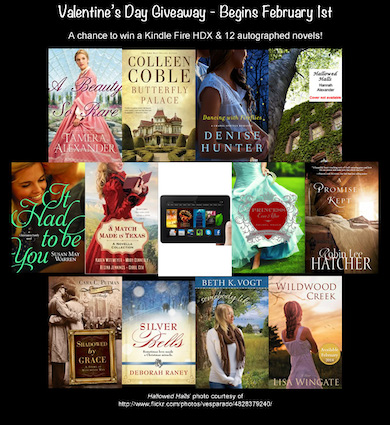 I'm so excited to announce a very special Valentine's Day giveaway. This doesn't start until Saturday, Feb 1, but I'm posting it a couple of days early due to travel. So wait until Saturday to enter.
I've joined with eleven best-selling author friends to bring our readers this great giveaway. In addition to a brand new Kindle Fire HDX, the winner will receive new or upcoming books as follows:
A Beauty So Rare by Tamera Alexander
Butterfly Palace by Colleen Coble
Dancing with Fireflies by Denise Hunter
Hallowed Halls by Hannah Alexander
It Had To Be You by Susan May Warren
A Match Made in Heaven by Mary Connealy
Princess Ever After by Rachel Hauck
A Promise Kept by Robin Lee Hatcher
Shadowed by Grace by Cara C. Putman
Silver Bells by Deborah Raney
Somebody Like You by Beth K. Vogt
Wildwood Creek by Lisa Wingate
* The giveaway runs from February 1st through February 13th. A winner's name will be drawn on and announced on Valentine's Day.
* This giveaway is open to entrants with USA mailing addresses.
* Entrants must be 18 years old and over. No purchase is required.
* The winner will receive a Kindle Fire HDX and 12 novels.
* Not all novels included in the prize package will be available at the time the winner is announced. Books will be sent to the winner as they become available. The prize is valued at over $400.
* Entrants must complete ALL 12 MANDATORY entry options (the first 12 listed on the Rafflecopter form) to be eligible to win. Before the prize is awarded, completion of all 12 mandatory entry options will be confirmed.
* Entrants can earn extra entries by completing any or all of the remaining twelve options.
* Every attempt will be made to announce the winner within 48 hours of the end of the giveaway.
* The winner of the Kindle Fire HDX and novels will be given 48 hours to reply to the email they are sent. If they do not respond to the announcement email within 48 hours, another winner will be chosen.
Here is the Rafflecopter entry. Good luck!