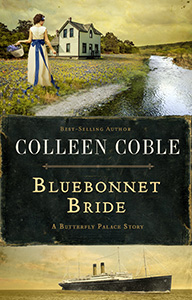 If you loved Butterfly Palace, you'll want to see what happens with Nathan as his story continues in Bluebonnet Bride. It's a digital novella and is only $2.99! Hope you enjoy it! Here's the back cover:
At the turn of the 20th century, Elli Korpela boarded The Baltic as a mail order bride. But the threat she thought she was escaping somehow followed her to America . . .
Escaping a forced engagement, Elli sought refuge in an arranged, mail-order marriage. Her betrothed is a Texan named Nathan White. As she glimpses her future husband and his darling niece at the train station, she instantly knows her risk will prove the best decision she's ever made.
Nathan White never took an interest in marriage until he became the guardian of four-year-old Hannah. He's arranged a mail order wife to love and care for his orphaned niece. But his mind changes when he first sees the beautiful Elli Korpela.
After a glorious wedding ceremony in the gardens of a place called Butterfly Palace—the grandest estate Elli's ever seen—a peaceful beginning takes a disquieting turn. An intruder brutally attacks Elli. Nathan intervenes, but the devil escapes unidentified, leaving Elli to face two chilling possibilities: either the attack was arranged by strike workers in Nathan's employ or her shadowy past followed her across the sea.
As the danger mounts, Elli and Nathan must face their enemy together, fighting for their newfound marriage—and for their lives.