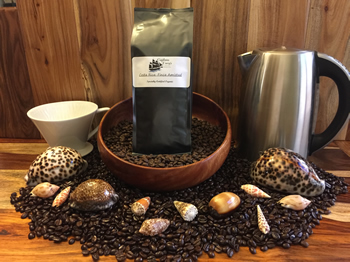 If you follow me on Facebook or know me personally, you know I'm passionate about my coffee. You will pry it from my cold dead fingers! But I'm also very picky about coffee. It has to be organic, and it also has to be roasted with a Dietrich IR roaster. Oh the flavor of coffee roasted that way! It's bursting with coffee's wonderful flavor and aroma. I also insist on wet processing because it's lower in mold. That makes my two favorites Costa Rican and Guatemalan.
My daughter and son-in-law soon picked up my passion for this kind of coffee, and my entrepreneurial son-in-law Mark decided he was going to become a toastmaster. And boy did he! The coffee that comes out of that roaster of is has to be tasted to be believed!
Here is the website for Captain Davy's Coffee Roasters. Get one of my favorites: Costa Rican or Guatemalan, and let me know what you think! Or try one of Captain Davy's other premium roasts. You can't go wrong with them! Even the decaf has fabulous flavor! http://captaindavyscoffeeroasters.com
Shipping is less per pound if you order 5 pounds at a time so that's what I do, and I put 4 pounds in my freezer and take out a pound at a time. Hope you love it as much as I do!