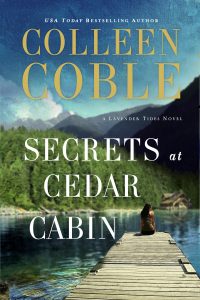 Readers have loved the first two installments in the Lavender Tides series and have been eagerly awaiting the finale with the final search for Shauna and Connor's missing sister.
Here's a little about Secrets at Cedar Cabin. Can't wait to hear what you think!
From USA TODAY bestselling author Colleen Coble comes the third book in her beloved Lavender Tides series.
Her mother lied about her identity and her husband wasn't who she thought he was—can Bailey even trust herself anymore?
Running for her life in the wake of her mother's murder, Bailey Fleming escapes to the only place she can think of—a remote, dilapidated cabin in Lavender Tides. Intending to finally get to the truth behind the lies of her past, Bailey only finds more questions when bodies are discovered near her cabin hideout along with traces of a dangerous human trafficking ring. In an unlikely partnership with FBI agent Lance Phoenix, Bailey races to understand the mystery surrounding her life and circumstances before the murderer tracks her down.
Meanwhile, Lance is determined to rescue his sister, Ava, who was abducted after running away from home as a teenager. An unexpected lead brings him to the remote cabin, and he wonders if Bailey—with her suspicious past and strange connections to his sister's case—is really who she claims to be and if she can somehow lead him to Ava.
Filled with Colleen Coble's custom blend of suspense and romance, Secrets at Cedar Cabin takes us back to the evocative landscape of Washington's coast where nothing is quite as it seems.
"Secrets at Cedar Cabin is filled with twists and turns that will keep readers turning the pages as they plunge into the horrific world of sex trafficking where they come face to face with evil. Colleen Coble delivers a fast- paced story with a strong, lovable ensemble cast and a sweet heaping helping of romance." —Kelly Irvin, bestselling author of Tell Her No Lies
"Once again Colleen Coble has delivered a page-turning, can't-put-down suspense thriller with Secrets at Cedar Cabin! I vowed I'd read it slowly over several nights before going to bed. The story wouldn't wait—I HAD to finish it!" —Carrie Stuart Parks, award-winning, bestselling author of Portrait of Vengeance and Formula of Deception