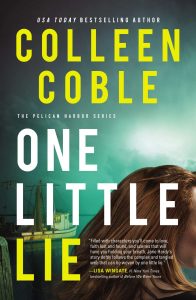 I'm super excited about my new Pelican Harbor series launching March 3 with One Little Lie! I was honored with a great endorsement from Lisa Wingate (author of the blockbuster Before We Were Yours) who had this to say:
Colleen Coble once again proves she is at the pinnacle of Christian romantic suspense. Filled with characters you'll come to love, faith lost and found, and scenes that will have you holding your breath, Jane Hardy's story deftly follows the complex and tangled web that can be woven by one little lie." — Lisa Wingate, #1 New York Times Bestselling Author of Before We Were Yours
Here's a little about the novel:
It started with one little lie. But Jane Hardy will do everything in her power to uncover the truth in this gripping new romantic suspense.
Jane Hardy is appointed interim sheriff in Pelican Harbor, Alabama, after her father retires, but there's no time for an adjustment period. When her father is arrested for theft and then implicated in a recent murder, Jane quickly realizes she's facing someone out to destroy the only family she has.
After escaping with her father from a cult fifteen years ago, Jane has searched relentlessly for her mother—who refused to leave—ever since. Could someone from that horrible past have found them?
Reid Bechtol is well-known for his documentaries, and his latest project involves covering Jane's career. Jane has little interest in the attention, but the committee who appointed her loves the idea of the publicity.
Jane finds herself depending on Reid's calm manner as he follows her around filming, and they begin working together to clear her father. But R
eid has his own secrets from the past, and the gulf between them may be impossible to cross—especially once her father's lie catches up with him.
You can go here for preorder links: https://colleencoble.com/books/17986/