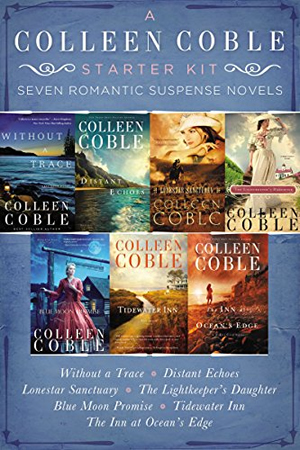 This is your chance to grab 7 novels for a great price! Load up your digital reader and head for a virtual vacation. Includes: Without a Trace, Distant Echoes, Lonestar Sanctuary, The Lightkeeper's Daughter, Blue Moon Promise, Tidewater Inn, and The Inn at Ocean's Edge.
About the Book
Distant Echoes
It feels like paradise, but deadly secrets lie beneath the waves off the coast of Kauai.
Sometimes Kaia Oana thinks her dolphins are more humane than humans. As a mammal intelligence researcher, Kaia has learned a thing or two about the goodness and intelligence of dolphins—and as a natural scientist in close proximity to weapons developers, she's learned a thing or two about humans as well.
Without a Trace
Bree thinks a plane crash took the lives of her husband and young son, but her son Davy survived the accident. Can she find him before it's too late?
It's been months since the crash. K-9 search-and-rescue worker Bree Nicholls knows the chances of finding her husband and son in the vast wilderness of Michigan's Upper Peninsula grow more remote by the day. But her heart and her faithful dog, Samson, demand she keep searching.
Lonestar Sanctuary
In the quiet safety of the Bluebird Ranch, old promises resurface and unexpected love brings new hope.
Though tragedy has wrecked her life, Allie Siders holds on to the hope that her five-year-old daughter, Betsy, will speak again. But with a stalker out for revenge, all Allie can think about now is their safety. She must sever all ties and abandon life as she knows it. She heads to the peaceful Bluebird Ranch, nestled deep in Texas hill country, and to the only person who can help them.
The Lightkeeper's Daughter
With the lies of the past behind her, Addie finds love . . . and discovers her true Father.
Addie Sullivan leads a quiet life in a northern California lighthouse. She mourns the death of her father and endures her mother's bitterness, until the night a storm brings an injured stranger and a dark secret to her home. The man insists she is not who she thinks she is, but rather "Julia Eaton"—the child long lost and feared dead by her wealthy family. Seizing the chance to be reunited with the Eatons, Addie leaves her lighthouse home but decides to keep her true identity a secret until they can unravel the mystery.
Blue Moon Promise
Lucy Marsh's worldly resources are running out, but she's fiercely determined to care for her younger brother and sister.
When she discovers that their father's recent death was no accident, Lucy is eager to leave town. She accepts a proxy marriage she believes will provide safe refuge. But trouble follows her to Texas where her new husband is surprised to suddenly have a wife and children to care for.
Tidewater Inn
Welcome to Hope Beach. A place of intoxicating beauty . . . where trouble hits with the force of a hurricane.
Inheriting a beautiful old hotel on the Outer Banks could be a dream come true for Libby. The inn cries out for her restorer's talent and love of history. She's delighted to learn of the family she never knew she had. And the handsome Coast Guard lieutenant she's met there on the island could definitely be the man of her dreams.
The Inn at Ocean's Edge
Claire's visit to a luxury hotel in Maine awakens repressed memories, threatening all she holds dear.
In 1989, Claire Dellamare disappeared from her own fourth birthday party at the Hotel Tourmaline on the island of Folly Shoals, Maine. She showed up a year later at the same hotel, with a note pinned to her dress but no explanation. Nobody knows where Claire spent that year—and until now, Claire didn't even know she had ever been missing.
Disclosure of Material Connection: Some of the links in the page above are "affiliate links." This means if you click on the link and purchase the item, I will receive an affiliate commission. I am disclosing this in accordance with the Federal Trade Commission's
16 CFR, Part 255
: "Guides Concerning the Use of Endorsements and Testimonials in Advertising."