About the Book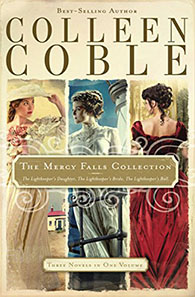 Enter the World of Turn-of-the-Century Coastal California
The Lightkeeper's Daughter
A storm brings an injured stranger and a dark secret to Addie Sullivan's California lighthouse home. The man insists she is not who she thinks she is, but rather the child long lost and feared dead by the wealthy Eaton family.
Addie secures employment in the Eatons' palatial home, keeping her identify a secret. As dusty rooms and secret compartments give up their clues about her past, Addie finds faith and a forever love.
The Lightkeeper's Bride
Working the phone lines one evening, Katie Russell overhears a chilling exchange between her friend Eliza and a familiar male voice. Katie soon learns that Eliza has disappeared, and the crime may be linked to another investigation headed by the handsome new lighthouse keeper, Will Jesperson. Katie and Will soon form an alliance—an alliance that blossoms into something more.
The Lightkeeper's Ball
Olivia Stewart is heiress to an empire. Her family numbers among the Four Hundred—those considered the most distinguished in America. But their wealth has evaporated and now their security rests upon Olivia marrying well.
Using her family's long-forgotten English title, Olivia travels to Mercy Falls, California, as Lady Devonworth. There she plans to marry Harrison Bennett, a wealthy bachelor. Harrison soon falls for her, but it turns out they've both been hiding something.
Includes Reading Group Guide
Other Books in "Mercy Falls Series"
Disclosure of Material Connection: Some of the links in the page above are "affiliate links." This means if you click on the link and purchase the item, I will receive an affiliate commission. I am disclosing this in accordance with the Federal Trade Commission's
16 CFR, Part 255
: "Guides Concerning the Use of Endorsements and Testimonials in Advertising."