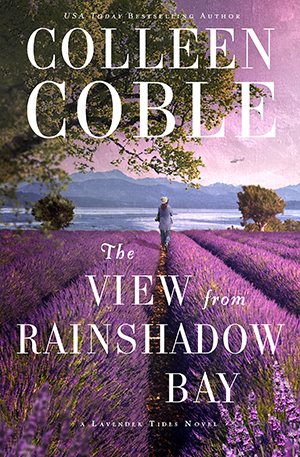 It's nearly here! The first book in my new Lavender Tides series releases in January, and early reviews have this to say:
"Coble (Twilight at Blueberry Barrens) keeps the tension tight and the action moving in this gripping tale, the first in her Lavender Tides series set in the Pacific Northwest."—Publishers Weekly
"Set on Washington State's Olympic Peninsula, this first volume of Coble's ("Sunset Cove" series) new suspense series is a tensely plotted and harrowing tale of murder, corporate greed, and family secrets. Devotees of Dani Pettrey, Brenda Novak, and Allison Brennan will find a new favorite here." –Library Journal
I love lavender so it was a no brainer to want to set a book series in what is called the Lavender Capital of the U.S. Here's a little bit about The View From Rainshadow Bay.
After her husband, Jack, dies in a climbing incident, Shauna has only her five-year-old son and her helicopter charter business to live for. Every day is a struggle to make ends meet and she lives in constant fear of losing even more than she already has.
When her business partner is murdered, his final words convince Shauna that she's in danger too. But where can she turn? Zach Bannister was her husband's best friend and is the person she blames for his death. She's barely spoken to him since. But right now he seems her only hope for protecting her son.
Zach is only too happy to assuage his guilt over Jack's death by helping Shauna any way he can. But there are secrets involved dating back to Shauna's childhood that more than one person would prefer to stay hidden.