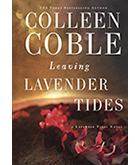 I'm so excited to share Leaving Lavender Tides with you! If you've read The View From Rainshadow Bay, you'll want to read this new adventure as Shauna and Zach encounter a stalker aboard their honeymoon cruise to the Hawaiian Islands. It's available exclusively at Barnes and Noble for the next few months in hard cover and digital copies. Here's a little about the story:
Having narrowly avoided tragedy in their hometown of Lavender Tides, Washington, Shauna and Zach Bannister are finally on a honeymoon cruise through the Hawaiian islands. Lost in the glow of their newfound love, they eagerly anticipate basking in the warmth of the lush tropics.
But soon the newlyweds begin receiving mysterious threats. After Zach survives two attempts on his life – staged as freak accidents – Shauna ominously receives flowers from a stranger.
The lovers become unwitting detectives in an urgent pursuit to discover the identity of their murderous stalker.
Set against the spectacular Hawaiian landscape, Colleen Coble's lightning-paced story is a haunting journey into a world as remote and hidden as it is beautiful, as spellbinding as it is wondrous.
Check it out! https://www.tnzfiction.com/lavender-tides-series/